ABOUT US
We can provide you with custom-made support. When we assist our domestic clients, we always meet them and listen to their words. As talking with them face to face, we can truly make out what we should protect in their intellectual properties. If we have your client's information in detail, we can make proposals for the best way to protect your client's Intellectual Property and others.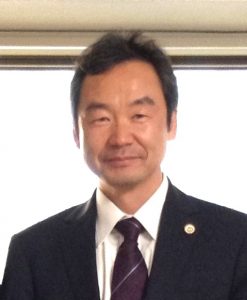 Katsuyuki KOBAYASHI,
patent attorney,
CAPLS(Certified Administrative Procedure Legal Specialist)
Areas of expertise
Trademark, Design, Patent and Utility Model (All fields except for chemical matters, electronic circuit placement ), Copy right
Personal History & Education
Date of Birth: 1962.1.27
Place of Birth: Nagano-city, Nagano-pref.
High School: Nagano prefectural high school ~1980.3
Univ. : Meiji University (Law) ~1985.3
Univ. : Tokyo University of Science (Electrical Technology) ~2012.3
Work Experiences
I opened my firm in Tokyo and Nagano in May, 2012.
Before the opening, I worked for big or small patent firms in Tokyo as follows and communicated with many firms in overseas for over 30 years, through which I have had not only got a lot of experience in IP field but also I could know the way how to manage the firm and what firm is preferable to their clients.
Usually, small firm is doing business with small companies.
However, some of the firms I worked, even if the size is very small, are doing business with big companies, who have a special department of Intellectual properties, and, of course, they are treating important matters of the companies as well.
Because they have excellent ability to dissolve the problem smartly. And we can easily find who is in charge of the issue and who has the responsility.
Keep small, Keep excellence. This is my policy.
1984.4~
・J.YAMAUCHI & CO. (trademark)
・Hirose International Patent Office, (trademark) (for 3 years)
・Kawaguchi International Patent Office, (patent, trademark) (for 3 years)
・Hanabusa Patent Office, (design, trademark) (for 12 years)
・Oda International Patent Office, (design, trademark, patent, copyright) (for 6 years)
・Akimoto & Co. (trademark, design, patent, copyright) (for 3 years)
and others
~2012.3
Memberships & Associations
JPAA (Japan Patent Attorneys Association)
APAA (The Asian Patent Attorneys Association) (joined: Chiang Mai 2012, Penang 2014, Okinawa 2015, Bali 2016, India 2018, Taipei 2019)
NDPA (Nagano-ken Design Promotion Association)
JTA (Japan Trademark Association)(joined SCT meeting 35,37)
JIDA (Japan Industrial Designer Association)
Why KARIN?
KARIN is the name of a tree bearing yellow fruit.
The trees are popular in Nagano prefecture.
I was born in the area.
I used to see the trees in the gardens on my way to school.
The fruit looks delicious, so I tried to bite it, but it was so bitter.
The ingredient of the fruit is good to our throat, so it is used in candies.
In Japanese, there is another word with the same pronunciation as KARIN. It means to not borrow money "KANE WA KARINAI", which is a good policy for me to run my firm.
Therefore, people used to plant the tree in their south garden to keep in mind the word.
Kosuke SATO
Lawyer, patent attorney
Areas of expertise
Corporate law, Intellectual property law, Inheritance law
Education
Juris Doctor
(Waseda University)
Hitonori ONO
CAPLS
(Certified Administrative Procedure Legal Specialist)
Areas of expertise
Patent and Utility Model
(mechanical matters, water use engineering)
Education
Bachelor of Agriculture
(Kyoto University)
Tomoaki HARADA
CAPLS
(Certified Administrative Procedure Legal Specialist)
Areas of expertise
Application for Construction Industry,
Agricultural land,
Envilonment,
Entertainment and Amusement business
Education
Bachelor of Agriculture
(Meiji University)
Saori MATSUMOTO
CAPLS
(Certified Administrative Procedure Legal Specialist)
Certified Procedurer of Application of Immigration
Areas of expertise
Immigration
Education
Bachelor of Education
(Waseda University)