Welcome to
KARIN INTERNATIONAL IP FIRM
I am Katsuyuki Kobayashi, the founder of this firm. After more than 30 years of experience at patent firms in Tokyo, I established my own firm, and to date, it has been about 11 years. I will continue to provide services to protect your important intellectual properties in a prompt and reasonably priced manner.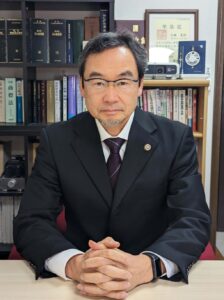 You can count on us to start and maintain your business, as well as protect your Trademarks/Service marks, Designs, Inventions, Utility models and other IP matters as essential elements or arms for your business execution.
We are confident not only in our prompt and accurate filing, but also in our ability to handle the followings, thanks to our many years of experience and the cooperation of our talented members and partners;
Responding to notices of reasons for refusal (submitting written opinions and/or amendments and requests for appeals),

Proactive measures to utilize the intellectual property rights that have been generated, such as handling warning letters and lawsuits after the rights have been generated,

Application, registration, and enforcement of rights to protect important intellectual property not only in Japan but also overseas.

Advice on how to utilize trademark rights, design rights, patent rights, utility model rights, and copyrights in accordance with your business requirements,
Our Service Fees ex.
For filing an application of a Trademark for one class in Japan: 33,000 JPY~
For filing an application of a Design for one article in Japan: 55,000 JPY~
Why KARIN?
KARIN is the name of a tree bearing yellow fruit.
The trees are popular in Nagano prefecture, where I was born.
I used to see the trees in the gardens on my way to school.
As the fruit looked delicious, I tried to bite it, but it was very bitter.
Properties of the fruit are good to our throat, so it is often used in candies.
In Japanese, there is another word with the same pronunciation as KARIN. It means do not borrow money ("KANE WA KARINAI"), which is a good policy for me to run my firm.
Therefore, people used to plant the tree in their south garden to remind them of the saying.